Adwords Expert
Pay-per-click or PPC ad campaigns are a quick and effective way to drive traffic to your website. The small text ads that surround search results (see example below) are triggered by search queries.  Type "portland flowers" into Google, and — no surprise — you see flower ads.
Advertisers select the keywords that will trigger their ads and set the maximum amount they're willing pay per "click". That bid determines how often and where ads appear.
The beauty of PPC advertising is you have complete budget control, and can stop and start your campaign whenever you choose.  Small businesses everywhere are choosing PPC ad campaigns over radio, print and direct mail to find new customers.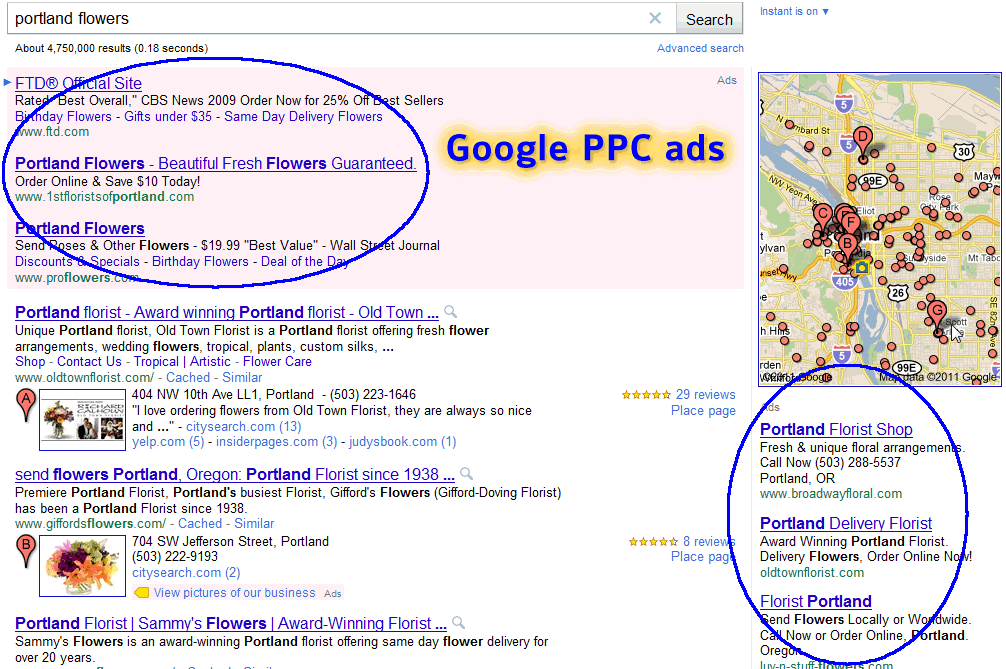 Our Adwords specialists have extensive experience managing PPC campaigns on Google, Bing/Yahoo and Facebook.  Keyword research and ongoing split testing is central to our approach.  The goal?  The lowest possible cost-per-click and maximum conversion ratio.
Adwords Campaign Management Package includes:
Extensive keyword research to identify cost-effective phrases
Campaign management on the platform(s) of your choice: Google, Bing/Yahoo or Facebook
Demographic/geographic targeting
Backend tracking systems that follow customers from click to conversion
Split-testing to determine the highest converting ads
Full budget control over daily and total ad spend
Comprehensive reporting